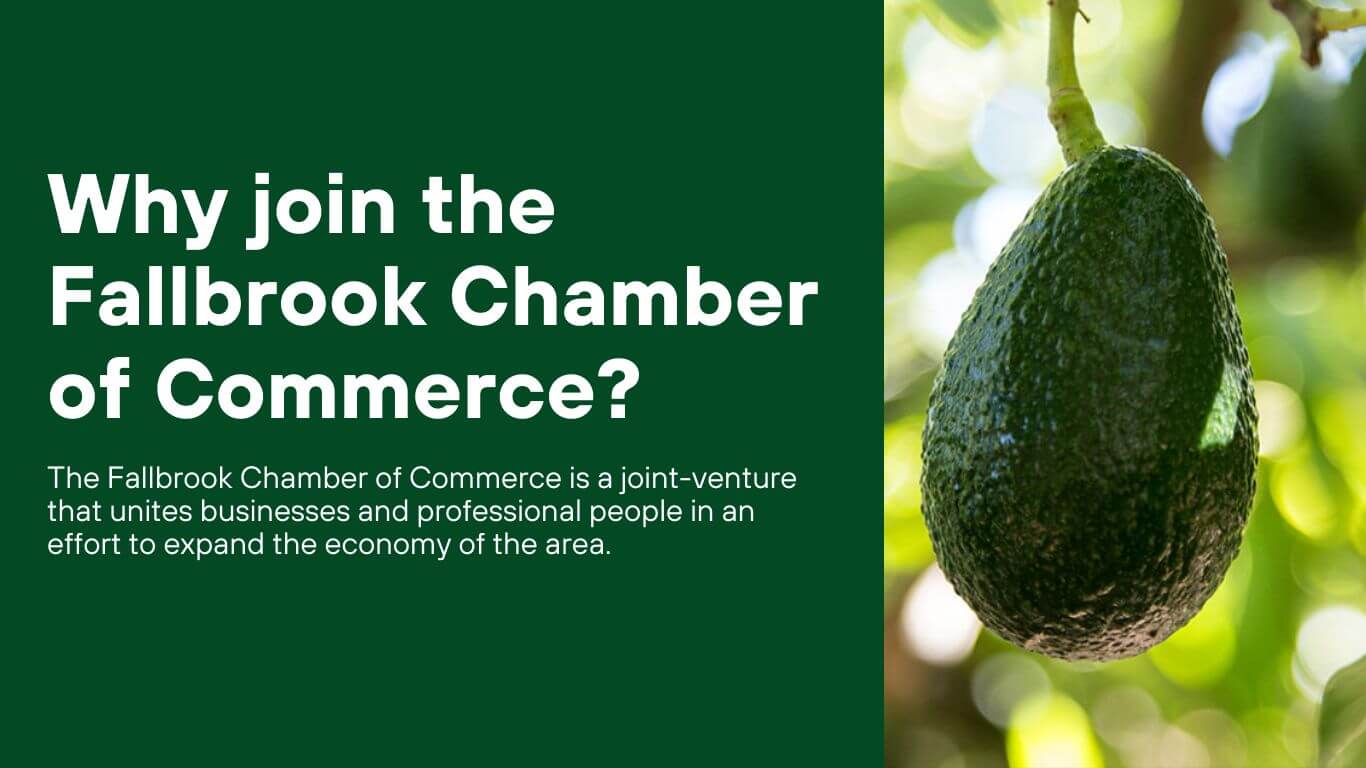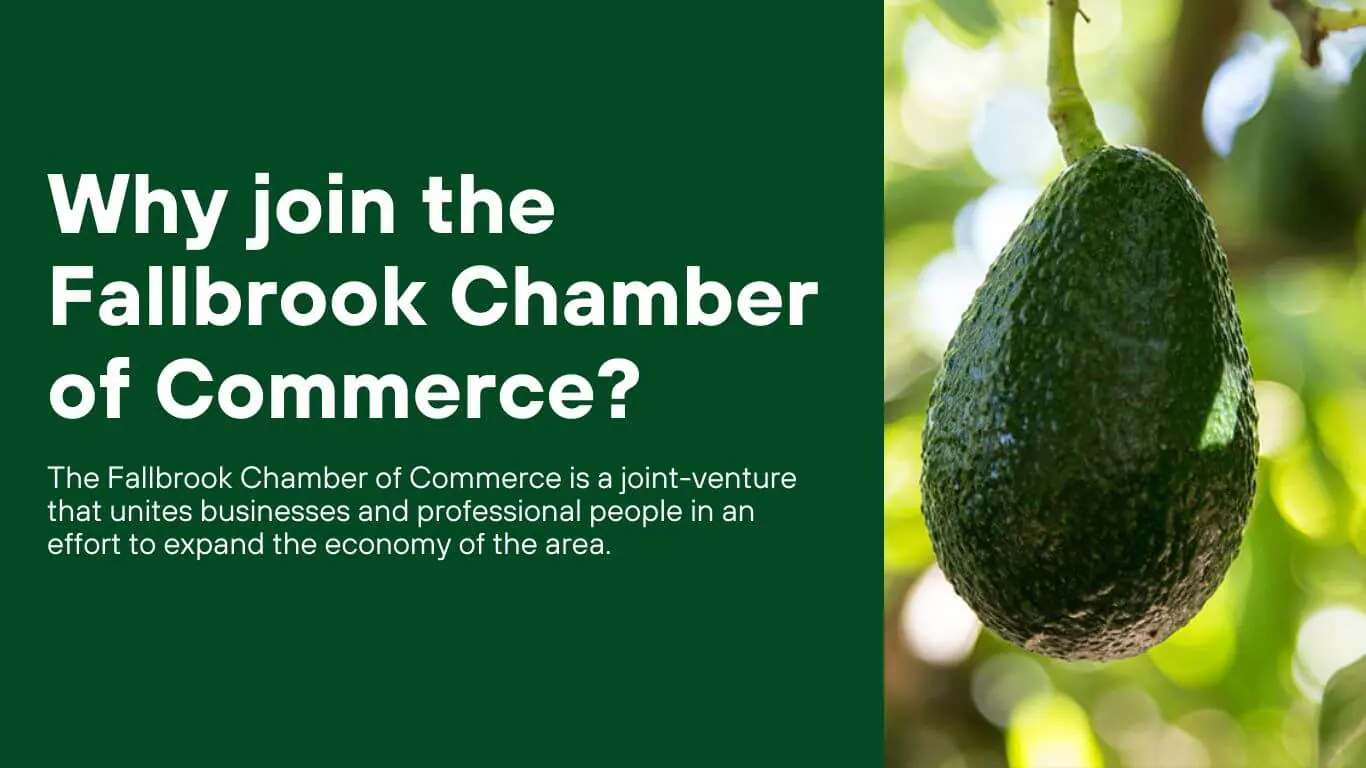 From education to economic development, the Fallbrook Chamber seeks to give each of its members the opportunity to prosper in today's competitive business world. With so much competition, wouldn't it be nice to be part of an organization that is dedicated to contributing to your success?
The Fallbrook Chamber of Commerce is a joint-venture that unites business and professional people in an effort to expand the economy of the area.
There is a place in the Fallbrook Chamber of Commerce for members to get involved and accomplish collectively what no one of them could do individually. Its strength lies in attracting the greatest number of individuals and firms into membership, thereby creating a pool of resources from which to draw ideas, energies, and finances.
Today, the Fallbrook Chamber of Commerce seeks collaborations with Fallbrook's numerous community organizations in an effort to recognize all the factors that affect the community and adjust our programs accordingly, which results in a better community in which to live and prosper.

Please note - you receive the most benefits for your business by joining as a Business Member than joining as an Individual or Business Affiliate. Individual membership allows membership under your name, NOT your business name.
We also offer a Business Affiliate membership which is available to industry business associates such as real estate agents and insurance agents. Please note that members of clubs, organizations and networking groups are not eligible for a Business Affiliate membership.
Membership is due annually.
Please contact the Chamber office (760) 728-5845 for more information.
Business
$285.00 Annually
Retailers, Wholesalers, Moving & Storage, Radio, Television, Publishers, Newspapers, Printers, Service Trades, Storage, Warehouse, Restaurants, Caterers, Cocktail Lounges and Bars
Agriculture
$100.00 Annually
Offered to growers and farmers. To qualify for this type of membership, there must be no retail business attached to, nor affiliated with, the property or what it produces.
Non-Profit
$100.00 Annually
Includes associations, fraternal, charitable and religious organizations.
Individual
$100.00 Annually
Offered to Chamber supporters that are non-business owners. With this type of membership, no business support or promotion is permitted.
If you would rather print the forms and pay by check, please download each of the application packet forms below:
        As a leader for business and economic development, the Fallbrook Chamber of  Commerce provides a broad array of services to members, including consultations on business matters, assistance with new business grand openings, educational workshops and seminars, and multi-faceted networking opportunities. The Chamber also provides members with ongoing information about community-related alerts, activities and opportunities.
The Chamber also acts as the local center for tourist information. It is the official information center of our unincorporated community. County and other government officials look to the Chamber for both facts and local perspectives relating to many pending decisions affecting our town and area.
The Chamber also serves as a communications hub for business, residents and visitors. Every other year our organization publishes an area map. A member business directory is also provided in partnership with the Village News Sourcebook on an annual basis.
Dollars spent in Fallbrook are dollars reinvested in the entire community. Money circulated in the community not only contributes to businesses, but provides employment and support for local schools, non-profit groups and other charities. A strong, diverse business base with the community provides additional economic opportunities for all of us.
Already a member?
Click the button below to log in and make changes to your profile, or pay your annual membership renewal fee.