Useful Community Information
Universal Waste Hotline (877) 713-2784
Report a Pothole
Division II Road Station, Bonsall - (760) 758-0171
Report Graffiti
Sheriff's Graffiti Hotline (760) 451-3145
Report Illegal Dumping
Sheriff's Department Non-Emergency Dispatch (760) 728-1113
If items are dumped in the County right-of-way along any Fallbrook road, call the DPW Bonsall Road Station (760) 758-0171.
Traffic Advisory Committee
Description of Traffic Advisory Committee with a link to their brochure (2 pages)
http://www.sandiegocounty.gov/content/sdc/dpw/transportation/traffic-advisory-committee.html
The TAC will assist all residents in the unincorporated area of San Diego County with any issues related to traffic safety: stop and yield signs, traffic signals, parking speed, crossings.
County Land, Environment Department Online Appoints
IF YOU HAVE A LIFE-THREATENING EMERGENCY, 

DIAL 911

 FOR AN AMBULANCE.
YOU WILL BE TAKEN TO THE NEAREST HOSPITAL IN A NEIGHBORING COMMUNITY  THAT CAN BEST TREAT THE TYPE OF EMERGENCY YOU ARE EXPERIENCING.
URGENT CARE FACILITIES:
MedPlus Urgent Care of Fallbrook
617 E. Alvarado Street, Fallbrook
760-509-9509
OPEN 7 DAYS A WEEK
Hours: Monday-Friday - 9 am - 7 pm
Saturday & Sunday - 9 am - 2 pm
Holidays - 9 am - 2 pm
Fallbrook Urgent Care
706 S. Main Avenue, Fallbrook
760-451-3500
OPEN 7 DAYS A WEEK
Hours: Monday-Friday 10 am - 7 pm
Saturday 10 am - 6 pm
Sunday 12 pm - 5 pm
North County Fire Protection District
330 S. Main.
Fallbrook, CA 92028
(760) 723-2005
San Diego County Sheriff's Substation, Fallbrook
388 E. Alvarado
Fallbrook, CA 92028
(760) 451-3100
Dispatch (760) 728-1113
911 Non-Emergency Line (San Diego Dispatch)
858-565-5200
Earthquake Warning California
The California Governor's Office for Emergency Preparedness has several links for brochures, tip sheets and connections to Partner Agencies. More Info
The San Diego County's Emergency website
www.sdcounty.ca.gov/oes


Trash Collection and Hauling ~ Roll-Off Rentals
550 W. Aviation
Fallbrook, CA 92028
(760) 728-6114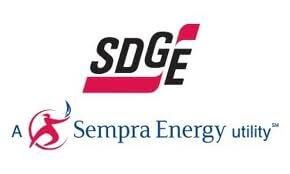 SAN DIEGO GAS & ELECTRIC CO.
320 West Mission Road
Escondido, CA 92029-1109
(800) 411-7343
March 2019 ~ Small Business Messaging from SDG&E®
Small Business Customers
You are mindful of your business's habits related to things like bookkeeping, management, and sales routines. Why not add energy use to that list? Building better habits in your business's use of energy will help the environment and save you money. For ideas, visit sdge.com/business. #espsdge #keepitgolden
Energy costs are highest between 4 p.m. and 9 p.m. View your business's current pricing plan and compare to other options with SDG&E's Pricing Plan Comparison tool. Choose the best plan depending upon when you use energy most. Watch this video ow.ly/ZhFF30nCDCz #espsdge
Register now for no-cost energy education and training at seminars.sdge.com at SDG&E's Energy Innovation Center in Clairemont. #espsdge
SD County Tell Us Now App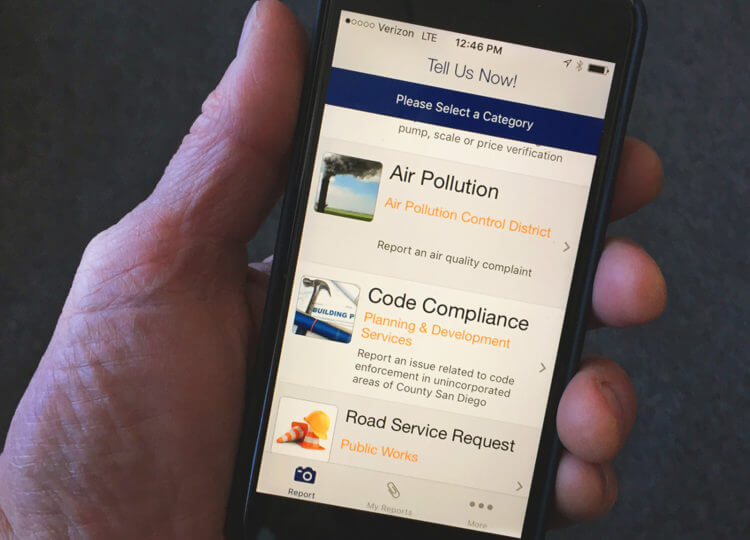 Report Potholes, Smog, Overcharges, More
You're driving down a County road, and you see a pothole, a flooded culvert, or a damaged street sign. Or you've been overcharged by a faulty price-scanner, see a business pumping out smog, notice a building slimed with graffiti or an abandoned junker car sitting at the corner.
But you're in a hurry. You don't have time to figure out who to call or email for help.
No worries! Just use the County of San Diego's free "Tell Us Now!" app. Snap a quick picture and add some text on your smartphone and send! The app will alert someone to clean up the mess, repair the sign or fix that error!
Tell Us Now! will let the public report retail overcharges and air quality issues regionwide. If the complaint is about a road or code compliance issue that isn't under the County's authority, the app will tell you, and share who to call to fix it.
The app allows the public to contact the County's Department of Agriculture, Weights, and Measures on issues pertaining to gas pumps, price verification and commercial scales regionwide; and the Air Pollution Control District for questions/complaints about smoke, smells, dust, illegal burns, asbestos, unpermitted operations and other items regionwide.
It also allows the public to contact County Code Compliance with complaints and questions about waste, graffiti, illegal grading and construction, and inoperable vehicles in unincorporated areas; and the County Department of Public Works about a host of road-related issues on County-maintained roads in unincorporated areas, including: drainage, road maintenance, signs and traffic issues.
Tell Us Now! builds on the County's commitment to customer service by making County systems more efficient, resulting in faster response times. The public can submit complaints and questions immediately, when they see them, and directly into County computer systems. The app will also allow customers to track the progress of their complaints as the County looks into them. The Tell Us Now! app will also give County employees more information — and photos — to use to conduct investigations.
To use the Tell Us Now! app, choose one of the four categories currently available, and continue to the specific issue. Touch the camera icon, snap a photo or video, fill out the question fields, add your contact info, and hit "Submit."
The app is available in the app stores for iPhone and Android smartphones.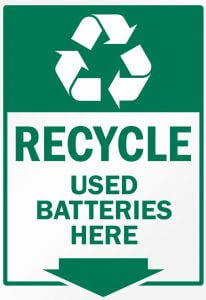 Albertsons, Fallbrook
1133 S. Mission Road
Fallbrook Public Library
124 S. Mission Road, Fallbrook
Fallbrook Waste & Recycling
550 W. Aviation Road, Fallbrook
(with other recycling bins near office)

Recycling Buyback Center
Accepting all CRV glass, cans and plastic.
Recycling Drop-Off:
Donation-value items accepted including paper, cardboard,
and non-CRV household containers.
Certified used motor oil drop-off
Public truck scale for certified vehicle weights
Courteous staff
Weekday and weekend hour
E-waste drop off location (used electronics)
Household battery drop-off location
Home-generated sharps drop-off location
Fat, Oil, Grease (FOG) drop-off location
Hours of Operation:
Buyback Recycling Center Mon–Sat 7:00 a.m. to 4:30 p.m.
Open All Holidays Until 2:00 p.m. (With The Exception of Thanksgiving Day, Christmas Day, and New Years Day: full closure) 
Address: 550 W. Aviation Rd., Fallbrook
Phone: (760) 728-6114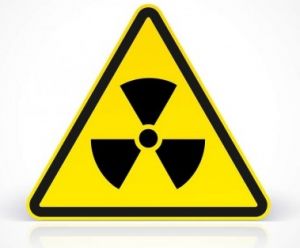 Put Toxic Waste In Its Place
For information call the Earth 911 Recycling Hotline to locate drop-off programs for hazardous and non-hazardous materials: 1-800-CLEANUP (800-253-2687) or www.earth911.org
Or, call Fallbrook Waste for residential hazardous waste disposal information.