Update on Drought Conditions
According to the March U.S. Drought Report, only 7% of California remains in moderate drought conditions, and 1% remains in severe drought. No portion of the state can be categorized as being in extreme or exceptional drought. About 15% of the state is considered to be "abnormally dry," according to the weekly report.
For updated information on drought conditions, please visit the U.S. Drought Monitor website.
Visit the link to the Water Authority's online conservation portal WaterSmartSD.org, which offers numerous water-saving incentives, free water-use evaluations, classes on WaterSmart landscaping and a home water-use calculator.
Fallbrook is surrounded by beautiful foothills and scenic areas. However, many of these areas are categorized by the State of California as a high risk fire zone. The years in which we receive less than normal rainfall make this risk a severe one.
We encourage Fallbrook residents to consider individual preparedness, especially if living in an area subject to wildland fire. In addition to preparing your property and home by providing defensible space, you should be prepared to evacuate. As with any disaster, you should have an evacuation plan for your family and have important documents, personal items, and medications ready to take with you. Plan ahead, as you may receive very little notice during a fast-moving fire. Do not risk your life and that of firefighters by delaying during an evacuation situation!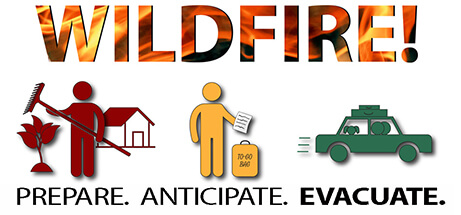 EVACUATION TIPS:
If advised to evacuate, do so immediately.
Know your evacuation route ahead of time and prepare an evacuation checklist and emergency supplies.
Wear protective clothing and footwear to protect yourself from flying sparks and ashes.
BEFORE YOUR LEAVE, PREPARE YOUR HOUSE:
Remove combustibles, including firewood, yard waste, barbecue grills, and fuel cans, from your yard.
Close all windows, vents, and doors to prevent a draft.
Shut off natural gas, propane, or fuel oil supplies.
Fill any large vessels—pools, hot tubs, garbage cans, or tubs—with water to slow or discourage fire.
IF CAUGHT IN A WILDFIRE:
Don't try to outrun the blaze. Instead, look for a body of water such as a pond or river to crouch in.
If there is no water nearby, find a depressed, cleared area with little vegetation, lie low to the ground, and cover your body with wet clothing, a blanket, or soil. Stay low and covered until the fire passes.
Protect your lungs by breathing air closest to the ground, through a moist cloth, if possible, to avoid inhaling smoke.
Protecting Your Property
Sandbags help to divert or redirect water, mud, and debris from your property and help prevent soil erosion.
Sand and Sandbag Availability
The County of San Diego Department of Public Works, Fire Authority and CAL FIRE have, preceding and during heavy rain events, free sand and bags available to residents and businesses in the unincorporated areas (which includes Fallbrook) to help protect homes, neighborhoods, streets and other properties from flooding and soil erosion.
Residents need only to bring their own shovel to these locations listed below. You can confirm the availability of sand and bags by calling ahead.
Sand & Sandbags:
Fire Station #4 ~ 4375 Pala Mesa Drive, Fallbrook
phone: (760) 723-2024
Joe's Hardware ~ 640 S. Main Ave, Fallbrook
phone: (760) 728-4265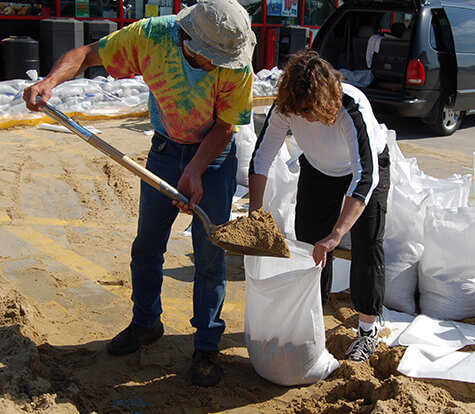 Other Resources
Department of Public Works Service Requests
If you need assistance with any of the following:
Potholes
Raised or Sunken Trench
Rock or Mudslide
Sweeping Request
Glass or Debris in Roadway
Street Lights
Drainage
Flooding
Culvert or Storm Drain Plugged
Debris/Vegetation in Channel
Water Flows Down Driveway
Downed, Missing, or Damaged Street Signs
Please contact your local public works department at (760) 758-0171